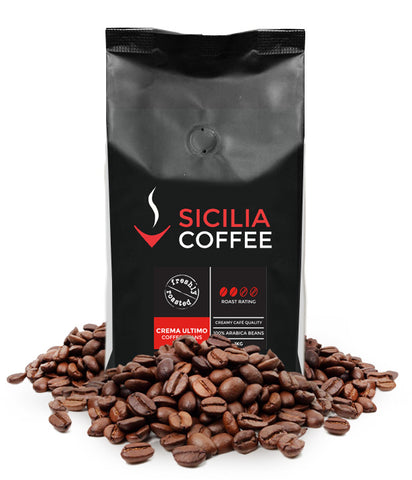 80g Sample: Crema Ultimo Coffee Beans
CREMA ULTIMO: This hearty blend of 100% Arabica coffee beans will produce a smooth cup that is nutty and creamy with a buttery finish, and pull together a range of flavours.
You'll taste a sweet orange acidity alongside some cocoa, malt, almond and soft berry notes. Popular with our commercial clientele as it suits a wide range of coffee lovers.

Flavour Rating: Mild 2
Roast Rating: Medium

Flavour Rating Scale:
Mild 4 (Mildest)
Mild 3
Mild 2 CREMA ULTIMO
Mild 1
Strong 1
Strong 2
Strong 3
Strong 4 (Strongest)
Roast Rating Scale:
Medium CREMA ULTIMO
Medium-Dark
Dark
---
We Also Recommend
---