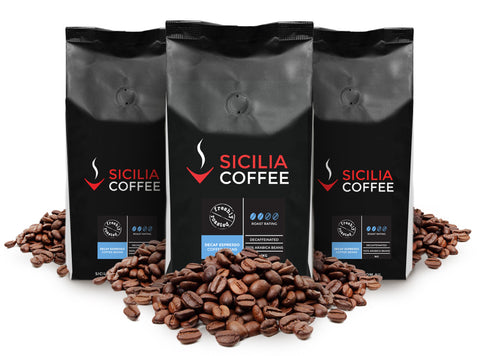 3kg Decaf Coffee Beans
DECAF: Enjoy a creamy and smooth-textured cup of coffee without the caffeine high. These 100% Arabica beans produce a sweet caramel flavour, with hazelnut notes, and carry a chocolate fudge finish.
Decaffeinated via the ''water washed process'', these coffee beans appear darker in colour, although this is not a dark roast.

We do not use a chemical extraction process; we only use beans that have the caffeine removed via a natural water extraction process, which also ensures the retention of the original coffee flavours.
Flavour Rating: Mild 2
Roast Rating: Medium


Flavour Rating Scale:
Mild 4 (Mildest)
Mild 3
Mild 2 DECAF
Mild 1
Strong 1
Strong 2
Strong 3
Strong 4 (Strongest)
Roast Rating Scale:
Medium DECAF
Medium-Dark
Dark
---
We Also Recommend
---