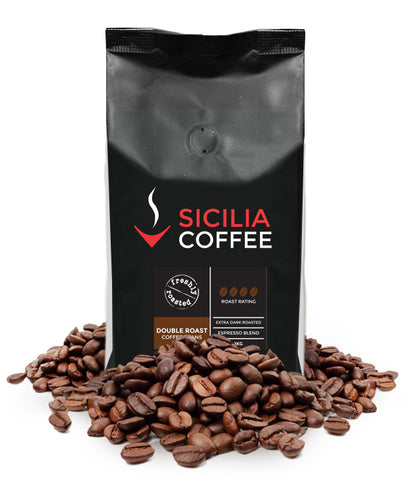 250g Double Roast Coffee Beans
DOUBLE ROAST: For those wanting a richer, heavy-bodied and gutsier cup of coffee. Expect varying intensities of spice, nuts and berry notes. These coffee beans are roasted darker until they are luxuriously oily and therefore produce a smoky finish in the overall intense taste.

It is a traditional coffee in some European cultures, and you may need additional sugar to balance the intense flavour. Suitable for: Seasoned coffee drinkers. This is not a beginner's blend!
Flavour Rating: Strong 4
Roast Rating: Dark
Flavour Rating Scale:
Mild 4 (Mildest)
Mild 3
Mild 2
Mild 1
Strong 1
Strong 2
Strong 3
Strong 4 (Strongest) DOUBLE ROAST
Roast Rating Scale:
Medium
Medium-Dark
Dark DOUBLE ROAST
---
We Also Recommend
---