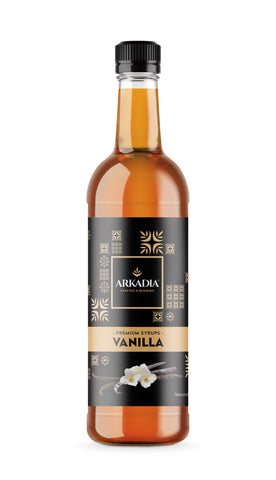 750ml Arkadia Vanilla Syrup
ARKADIA PREMIUM VANILLA SYRUP: Ideal for sweetening and adding a touch of vanilla flavour to your favourite coffee, frappe, smoothie, hot chocolate or desserts. Blend with ice for a refreshing caramel frappe. This syrup delivers superior taste and quality, which your baristas and cafes will love. Crafted and blended in Australia with a minimum of 12 months shelf life.
ARKADIA LIQUID/SYRUP PUMPS: Our easy to use Arkadia pumps only require one press to accurately measure out the same dose of syrup every time. No need to stir to dissolve, which will result in saving pressures time for every barista.
*Pumps are external and not included with this product. Please add to your order if required (pumps are re-usable). 
INGREDIENTS: Sugar, water, flavour, food acid (330), preservative (202), colour (150d).
MAY CONTAIN: Traces of dairy.
SERVINGS PER PACKAGE: 50 (serving size 15ml)
---
We Also Recommend
---