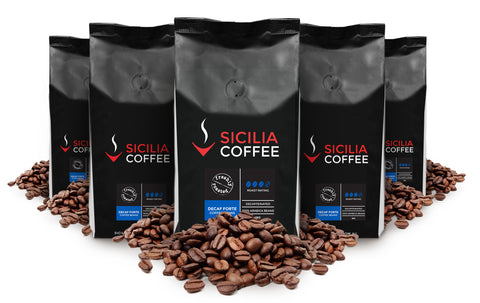 5kg Decaf Forte Coffee Beans
DECAF FORTE: Enjoy this coffee any which way you desire without the caffeine jitters. The coffee beans are sourced from the Mexico region and is the strongest in taste from our Decaf range. Dark chocolate, malt, leather and spice notes upfront; sweet cream, hazelnuts and cocoa to finish.

Decaffeinated via the ''water washed process'', these coffee beans appear darker in colour, although this is not a dark roast.

We do not use a chemical extraction process; we only use beans that have the caffeine removed via a natural water extraction process, which also ensures the retention of the original coffee flavours.

Flavour Rating: Strong 2
Roast Rating: Medium-Dark
Flavour Rating Scale:
Mild 4 (Mildest) 
Mild 3
Mild 2 
Mild 1
Strong 1 
Strong 2 
DECAF FORTE
Strong 3 
Strong 4 (Strongest)
Roast Rating Scale:
Medium 
Medium-Dark 
DECAF FORTE
Dark
---
We Also Recommend
---