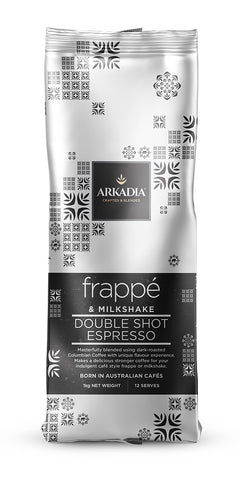 1kg Arkadia Double Shot Espresso Frappe Powder
ARKADIA DOUBLE SHOT ESPRESSO FRAPPE POWDER: Arkadia master blenders have developed a range of ice blended beverages that deliver real indulgence. The perfect summer drink for Double Shot Espresso frappe lovers! 
It makes a delicious & thirst quenching iced blended beverage. Simply make it at home by using a blender with ice. We guarantee you will love the Double Shot Espresso Frappe.
Preparation instructions blender (based on 475ml cup):
Fill a 475ml cup (16oz) with ice, add 3/4cup of water (or cold milk) and pour into a blender. 
Add 80gram of Arkadia Double Shot Espresso Frappe Powder.
Blend for 30 seconds until smooth.
Contains: Milk products and soy products. Arkadia Frappe's contain no artificial colours, sweeteners or preservatives.
Servings: 12 servings per package.
---
We Also Recommend
---