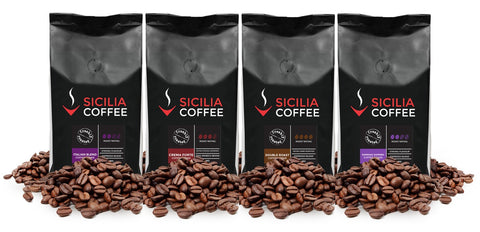 4kg Strong Sampler: 4 x 1kg Coffee Beans
The pack includes 1 each of the following blends in 4 x 1kg sealed bags:

1 x Italian Blend
1 x Espresso Superbo
1 x Crema Forte
1 x Double Roast
ITALIAN BLEND: A strong coffee blend with an inky body and subtle citric acidity. It has notes of milk chocolate, spice and nuts. Enjoy this budget-priced coffee without the sacrifice in quality.
These coffee beans originate from Africa, Oceanic region and South America. Best suited to Italian-style espresso.
Flavour Rating: Strong 2
Roast Rating: Medium
ESPRESSO SUPERBO: Full and heavy-bodied, this coffee has a subtle berry acidity, with inky notes of clove, leather, earth and spice. A pleasing dark chocolate taste in its finish. Light to medium-roasted, and stronger in flavour, it will make a great Italian-style espresso without the bitterness.
Flavour Rating: Strong 1
Roast Rating: Medium
CREMA FORTE: A full-bodied, creamy, 100% Arabica blend originating from South America. Expect a subtle blackcurrant acidity, balanced with a slight chocolate flavour, and topped with a toffee and hazelnut finish.
You'll love this darker roast with its great crema, pleasing aroma and strength, with no bitter after-taste. These coffee beans are best suited to Italian-style espresso or a long black.
Flavour Rating: Strong 3
Roast Rating: Medium-Dark
DOUBLE ROAST: For those wanting a richer, heavy-bodied and gutsier cup of coffee. Expect varying intensities of spice, nuts and berry notes. These coffee beans are roasted darker until they are luxuriously oily and therefore produce a smoky finish in the overall intense taste.

It is a traditional coffee in some European cultures, and you may need additional sugar to balance the intense flavour. Suitable for: Seasoned coffee drinkers. This is not a beginner's blend!

Flavour Rating: Strong 4
Roast Rating: Dark

Flavour Rating Scale:
Mild 4 (Mildest)
Mild 3
Mild 2
Mild 1
Strong 1 ESPRESSO SUPERBO
Strong 2 ITALIAN BLEND
Strong 3 CREMA FORTE
Strong 4 (Strongest) DOUBLE ROAST
Roast Rating Scale:
Medium ITALIAN BLEND, ESPRESSO SUPERBO
Medium-Dark CREMA FORTE
Dark DOUBLE ROAST
---
We Also Recommend
---