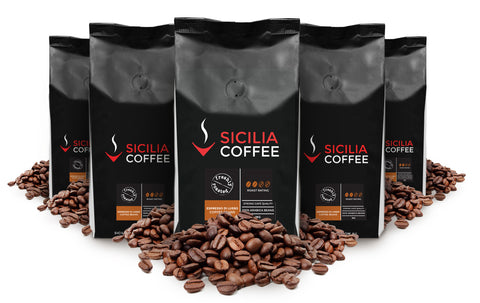 5kg Espresso di Lusso Coffee Beans
ESPRESSO DI LUSSO: A 100% Arabica blend which combines a bold Central American flavour with the sweetness of the Brazil bean.
A juicy drop with raspberry and peach fruit acidity, moving to a long sweet caramel finish, which makes for a flavoursome cup with wild and exotic notes. Suitable for: Espresso or long black.

Flavour Rating: Strong 1
Roast Rating: Medium


Flavour Rating Scale:
Mild 4 (Mildest)
Mild 3
Mild 2
Mild 1
Strong 1 ESPRESSO DI LUSSO
Strong 2
Strong 3
Strong 4 (Strongest)
Roast Rating Scale:
Medium ESPRESSO DI LUSSO
Medium-Dark
Dark
---
We Also Recommend
---