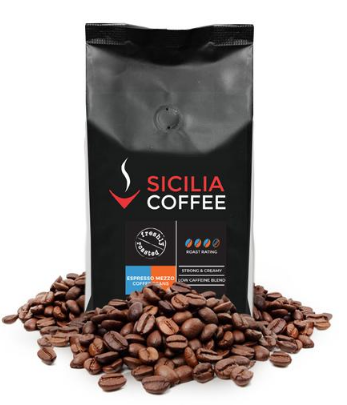 1kg Espresso Mezzo (Reduced Caffeine)
ESPRESSO MEZZO: A 100% Arabica Blend with 50% reduced caffeine. This blend contains tropical and nutty notes, with sweet citric acidity. It has a creamy yet juicy body and a finish of orange zest.
It is a very satisfying cup for those who want to reduce their caffeine intake (not eliminate altogether), and still seek the perfect balance with an espresso coffee taste and a creamy character.
Suitable for: Those who want (or have been instructed) to reduce their caffeine intake. For example, pregnant women can now look forward to 2 cups of Espresso Mezzo per day.

Flavour Rating: Strong 1
Roast Rating: Medium

Flavour Rating Scale:
Mild 4 (Mildest)
Mild 3
Mild 2
Mild 1
Strong 1 ESPRESSO MEZZO
Strong 2
Strong 3
Strong 4 (Strongest)


Roast Rating Scale:
Medium ESPRESSO MEZZO
Medium-Dark
Dark
---
We Also Recommend
---